Tom Pimienta
My style has been described as post-impressionist grimace.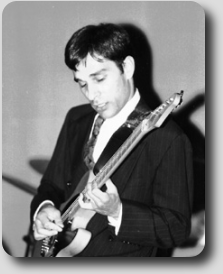 Long, strange trip
Tom Pimienta has played guitar with honest intentions since graduating from UC Davis with a B.S. in Physics in 1992. He's got rock in his veins, funk in his soul and jazz on the brain. He is the co-founder of Funkengruven, a 70's R&B/soul tribute band, and played in jazz ensembles at California State University at Sacramento and San Diego State University, where he was a jazz-guitar major.
Awesome guitarists you probably never heard of
There are a few unsung guitar heros Tom has met: three to be exact. Steve Homan is a legendary guitarist in Sacramento and several times toured as Kennedy Center Jazz Ambassador. To view his accomplishments go to Steve's web page to read more. Also, Tom had the privledge of studying with Art Johnson for over a year. Art is one of the most tasteful jazz guitarists around; check out his CD 'Solo Jazz Guitar'. Mark Augustin's blazing virtuosity on the instrument inspired Tom to be more aggressively chromatic. Mark has a couple of music stores in San Diego.
Ear Training
Ear training is the best way to improve your playing and it should be a prominent part of your daily practice schedule. Check out BigEars by Flat 5 Software. Its shareware that runs on the PC or Mac OS X. It has cool jazz chords for but also as intervals and triads for beginning students.
Jazz Guitar Sites
Robert Conti instructional jazz guitar dvds, books and chord melody arrangements
Online Guitar Lessons
** New ** Pentatonic scale fingerings applet!
Check out the note-finding applets I made. You can use these lessons to learn where every note is on the fingerboard. Of course, learning how to read music helps too.
Please contact me if you are interested in using my applets on your own website. All that is required is copyright notice and link back to my site.
Useful software tools for the musician